Experience of using Equilibrium®, Bioiberica's synergistic biostimulant, on blueberries
Friday, 04 June 2021

Field Experience | Berries | Equilibrium®
---
Aim:
To evaluate the efficacy of applications of Equilibrium® in pre-flowering and post-flowering periods in order to improve the yield from commercial production batches.
Information:
Location: Acheral - Tucumán (Argentina)
Institution: Tierra de Arándanos
Crop: Blueberry
Variety: Jewel - Farthing - Emerald
Equilibrium® treatments: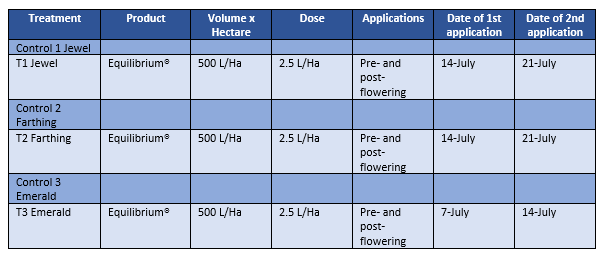 Performance in packaging:

[Rendimiento = Yield]
Yield increases were observed for the 3 varieties tested for blueberries treated with Equilibrium®.
The Farthing variety control suffered a heavy frost (loss of -30%); even so it is estimated that there was a -1.5T difference compared to the one treated with Equilibrium®.
Vigour index monitoring (NDVI):
Equilibrium® treatment in pre-flowering and post-flowering in Blueberry var. Farthing.

[Tratamiento = Treatment
Testigo = Control]
A correlation was observed between treatment with Equilibrium® and the increase of NDVI with respect to the control, and therefore more advanced development and higher yield.
Financial results:

Conclusions:
For the three blueberry varieties assessed, the highest yields were achieved in treatments where Equilibrium® was applied.
The net kg of fruit reaped were higher, taking into account the cost-benefit ratio, where Equilibrium® was applied, for all the varieties assessed.
In addition:
In the Vegetative stage, Equilibrium® improves:

Auxin activity, which together with brassinosteroids generates greater growth and development of shoots and/or fruits.
Increased resistance to stress (SAR), increasing the capacity to mobilise nutrients from the soil.
Higher quantity of chlorophyll in leaves and photosynthetic capacity, delaying senescence.

In the Reproductive stage, Equilibrium®:

Stimulates the metabolic pathways related to regulation, synthesis, and mobilisation of reserves to the growing organs, consequently, higher yields are obtained.