Bioiberica – Plant Health is committed to reducing the carbon footprint
Thursday, 20 April 2023
Latest news
Bioiberica is a global company in the life sciences sector that is committed to improving the health and well-being of people, animals and plants.
Sustainability is part of our DNA. Our commitment is to provide the world and society with the best that we carry inside, the best that we create, to take care of life in a sustainable way, satisfying the needs of the present without compromising the resources and possibilities of future generations from an environmental point of view. , social and economic.

---
Plant Health: sustainability and circular economy
At Bioiberica - Plant Health we are based on the circular economy with a clear objective: to extract all the value and potential of each of the biomolecules present in our raw materials of natural origin, generating the minimum amount of waste.
Throughout the manufacturing process of our pharmaceutical and nutraceutical products for human health and that of companion animals, we obtain other very valuable products for the production of active ingredients for animal nutrition and crops with high added value. All these production processes are designed to minimize the consumption of water, energy and auxiliary raw materials.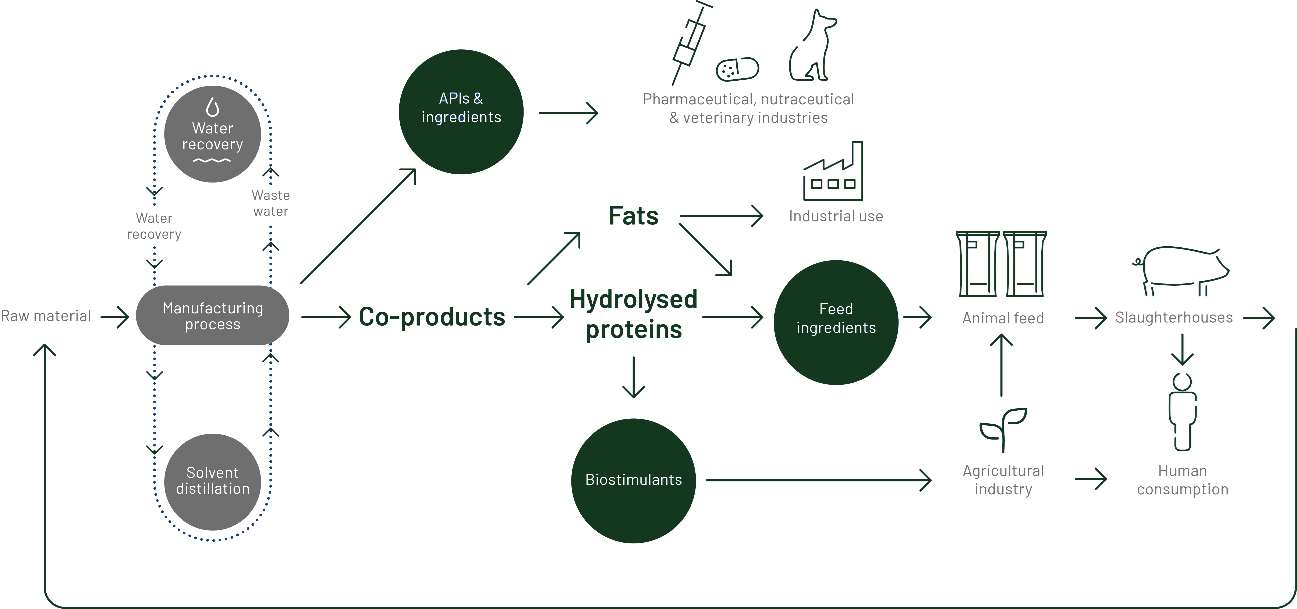 What is the carbon footprint?
The carbon footprint is an environmental indicator that aims to reflect the totality of greenhouse gases (GHG) emitted as a direct or indirect effect of an individual, organization, event or product. 3 types of emissions are defined:
Direct emissions (Scope 1): are those greenhouse gas emissions that come from sources that are owned or controlled by the company, such as, for example, consumption of fossil fuels in fixed and/or mobile sources, unintentional leaks from air conditioning equipment, etc.
Indirect emissions from energy consumption and distribution (Scope 2): correspond to greenhouse gas emissions associated with the consumption of electricity and/or steam generated by third parties.
Scope 3 emissions are those that come from a company's value chain and are not under its control. Examples of such emissions include business travel, employee commuting, or product use.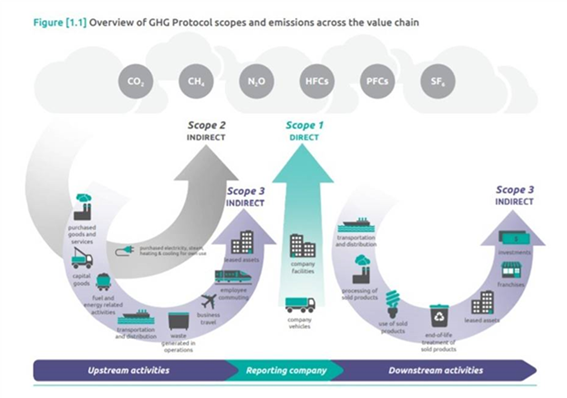 Our carbon footprint
At Bioiberica we have calculated the total scope 1 and 2 emissions of our entire organization, by product, globally, and for each of our production plants.
For Bioiberica – Plant Health products, the Average Emission Value is only 0.051 Kg CO2 per Liter of manufactured product. By way of comparison, the manufacture of Urea as a nitrogenous fertilizer with European standards emits around 1.7 Kg of CO2 per Kg of Urea, taking into account the entire production process (2006 IPCC Guidelines for national greenhouse gas inventories greenhouse). At an agricultural level, for example, if we fertilized a field with 100Kg of Nitrogen from a Bioiberica - Plant Health Biostimulant, 46Kg of CO2 would be emitted compared to the 1700Kg of CO2 that would be emitted if Urea were applied with the same Nitrogen contribution, counting only the energy consumed in manufacturing.

Our future strategy
The climate emergency is the greatest environmental challenge facing today's society, for which it is essential to act immediately, both with individual and collective actions from the public and private sectors.
We began our journey in reducing the impact on the environment more than 20 years ago with the ISO 14,001, EMAS and ISO 50,001 certifications. We have recently approved the Group's Climate Strategy, where we have defined the ambitious targets for reducing GHG emissions. We propose the decarbonization of our activity in two phases: one to significantly reduce emissions by 2030 and another to achieve neutrality in 2050.
We have started the path with numerous interventions: purchase of renewable energy, installation and production of photovoltaic electricity, implementation of energy efficiency measures in lighting, steam production and production processes, etc.
Our future challenges
Reduce 30% of our direct emissions (scopes 1 and 2) in 2030.
Ensure that all our electrical energy is of renewable origin worldwide.
Establish the bases to achieve climate neutrality in 2050.
Do you join us?