Bioiberica Plant Health participates in the first edition of DemoAlmendro
Tuesday, 26 July 2022

Latest news | Frut trees | Equilibrium®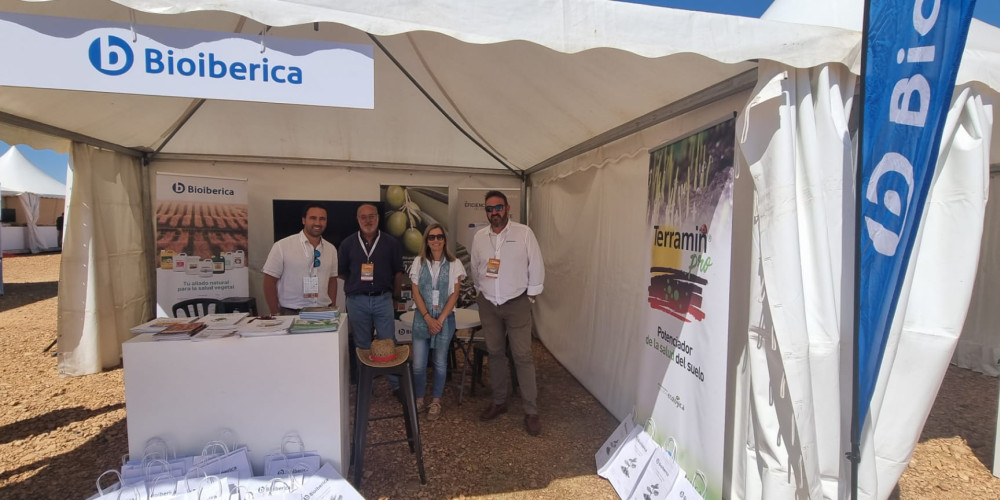 The sessions were held at the "La Copa" farm on June 28 and 29.
Nearly 2,000 attendees gathered to learn about the latest innovations in the sector.
---
DemoAlmendro 2022
, organized by Interempresas, Agromillora and ISFA, managed to bring together almost 2,000 people in person at the 'La Copa' farm, located in the municipality of Logrosán (Cáceres, Spain). After a first day with a large influx of public from early in the morning, the second day registered a high participation both in person and through the live broadcast via streaming. DemoAlmendro 2022 achieved its goal of becoming the reference event at European level around almond cultivation.
The representatives of Bioiberica, both from Spain and Portugal, were in charge of attending the more than 2,000 heated attendees in our tent, supporting the sector and presenting the work carried out with the CEBAS-CSIC with the star products for this crop, the
Equilibrium®
biostimulant, and
SinerJet®-Cu
for the management of almond tree diseases.
Almond tree is a typical Mediterranean crop, which resists well the winter cold and the high summer temperatures. The high temperatures that we are experiencing in this prolonged heat wave, however, can cause serious damage to trees. With temperatures above 35ºC, photosynthetic activity is seriously reduced. Higher temperatures, above 40ºC, can cause dehydration, necrosis and leaf fall, fruit damage and wood burns. To all this, we must also consider another factor of great importance, such as relative humidity. Excessively low relative humidity values ​​induce stomatal closure in the plant, negatively affecting vegetative and reproductive activity.
The application of quality biostimulants based on L-α-amino acids such as
Terra-Sorb® complex
or
Equilibrium®
is of vital importance to help the tree cope with these stress situations, avoiding yield losses in the critical period of bone hardening. and increase in seed weight.
Bioiberica has more than 35 years of experience in the extraction of bioactive compounds for biostimulation, nutrition and plant protection. Thanks to
Enzyneer®
, its exclusive technology for the extraction of L-α-amino acids and other bioactive compounds, Bioiberica obtains biostimulant products with phytohormonal activity that are unique on the market.
To know all our solutions against plant stress, visit this
link
.